Slovenia – Did you know the first national final started already? Not a lot of us did. However, EMA 2020 has started via a newcomers selection called EMA FREŠ to selected, through weekly duels, two entries that will take part in EMA 2020 alongside 8 confirmed artists.
The popularity of the contest is growing in Slovenia it seems: after a strong national final last year, that lead to an entry that qualified Slovenia to the final a second time in a row and was popular enough on ET that it got to the TEKO final, they made the national final bigger without compromising on the smaller NF of ten finalists.
RTVSLO, the national broadcaster, opened an online competition with 18 participants. Each week, 3 duels eliminate 3 acts and qualify three to a Friday competition where only 2 proceed, one winning televote and one qualifying with the juries. That means 2 qualify per week for three weeks. In the end, a final of 6 will see 2 qualify for the grand EMA final, one with televote and one with juries.
The show is presented by influencers, esc fans and only two professionals: Alemen Kopina, Bojan Cvjetićanin, Denis Živcec, Maja Pinterič and Rebeka Tomc.
This is the full line up:
Alfirev – Črno bela lika (Black and white figure)
Astrid in Avantgarden – Sing To Me
Klarity – Diham (I'm breathing)
Lana Hrvatin – Dream
Ljudmila Frelih – Vztrajaj, ker je vredno (Persevere because it's worth it)
Marko Škof – Hočem da je vse kot prej (I want everything as before)
Marmoris – Moj pristan (My haven)
Martina – Pleši (Dance)
Nuša Pliberšek – Življenje je čarovnija (Life is magic)
Parvani Violet – Cupid
Petra Ceglar – Srce naglas (Heart out loud)
Pia Nina – Tukaj in zdaj (Here and now)
Sara Petešič – Sanjaj / Dream
Saška – Še kar lovim tvoj nasmeh (I'm still chasing your smile)
Soulution – Bil bom s teboj (I'll be with you)
Stella – Ne vem, če sem v redu (I don't know if I'm okay)
Tilen Lotrič – Jaz in ti (Me and you)
Younite – The Cure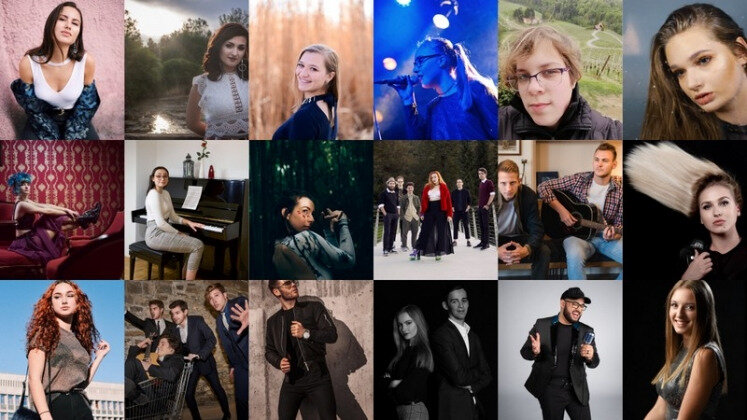 You can hear the songs and vote on youtube or on the official site.