Ukraine – NTU launched tonight its national final tonight with the first Semi-final out of two: 9 songs competed and only 3 made it through based on 50% televote an 5% jury. Check out the full results!
The show will be hosted by Dmytro Tankovich and Oleksandr Pedan. This was tonight's line-up:
Anastasia Prikhodko – I Am Free Now
The Hardkiss – Helpless
Tonya Matvienko – Tin Whistle
Vladislav Kurasov – I'm Insane
Lavika – Hold Me
Jamala – 1944
Aida Nikolaychuk – Inner Power
Svetlana Tarabarova – Never Again
Brunettes Shoot Blondes – Every Monday
If you missed tonight's show, you can check all performances here.
Both jury and televote gave points to all entries from 1 to 9 (9 being the favorite) and the top three entries make it through to the final. The jury was Konstantin Meladze, Ruslana and Andriy Danylko (Verka Serduchka). This was the full result: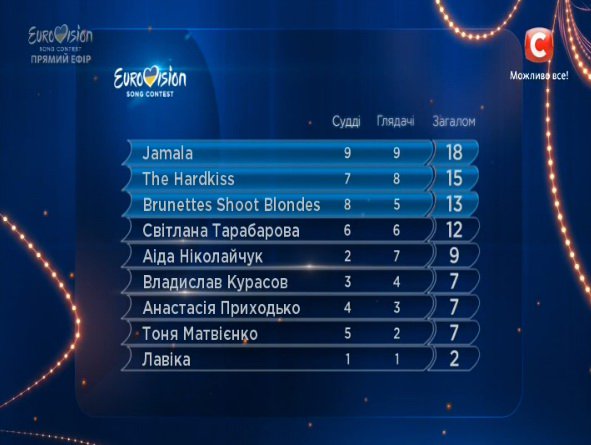 So Jamala, The Hardkiss and Brunettes Shoot Blondes made it through, with only the first two being in both jury and televote top 3 and Jamala having won both set of votes. Next week, nine more songs will compete for the last three places in the final!